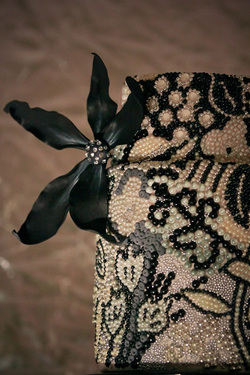 We have had a particularly busy stretch recently which culminated in meeting lots of fantastic brides and grooms at the Scottish Wedding Show at the SECC in Glasgow at the beginning of this month. The week running up to the event was a day and night, 7 day effort as we worked on three local weddings and display and info for our stand at the show.
While it felt like a herculean task for us, there were other people involved without whom the whole project would just not have got off the ground. This support and team effort was so important to us and we are so grateful to have such talented friends and family! First of all my (Emily) Dad hand made a state of the cake art display cabinet with it's very own wiring and lighting system – it is just fab and he spent so much time and effort to make the perfect structure for the specific measurements of our pretty tiny stand at the SECC. This posed the issue of transporting this item to the event and more fantastic generosity came from the (slightly unlikely) source of
Coastworks
based in Fairlie, North Ayrshire who leant us their van for the weekend, invaluable to us and another piece of the puzzle solved.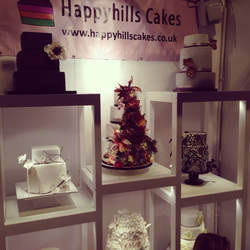 While the cakes were underway we were able to call upon good friend and super talented photographer
Gillian
– we always take ongoing snaps of the cakes but it makes such a difference to have a professional take them how we see them, especially for use in print. We don't underestimate what an important part of our output this is.
And finally on the weekend we had another good friend Cara come along and demonstrate to us how meeting different brides and grooms should be done! Her energy and warmth was another invaluable asset to our efforts and we were thrilled to have her on board. As a writer and former Happyhills bride she even wrote a gorgeous wee poem about different cake flavours which we put on our handout leaflet - her enthusiasm and care for what we do seemed to say something extra about the overall cake experience!
All in all a team effort - and we really appreciated it!
There were some other great suppliers there too, many of which we didn't have a chance to visit but of those we did we loved meeting
Opus Couture
,
Portavadie Marina
(gorgeous venue) and it was fun to meet
Cheese Wedding Cakes Scotland