There has been a wide array of cakes coming out of HHHQ the past few weeks, and this coming week is no exception! But after that there is a wedding cake onslaught and we can't wait to get stuck in! We absolutely love working on wedding cakes. It's a privilege to meet brides and grooms during the planning stages for their big day – we love to meet up with them, hear their story, try some samples and help them come up with the perfect cake to represent them on their special day. It means everything to us to get this right – the design has to portray their style and each tier has to be a flavour that they and their guests will love. We are a very small business and hope that that brings with it an extra personal and bespoke service, we really want to make cakes that are one of a kind.
We will be exhibiting at the
Scottish Wedding Show
at the SECC in Glasgow on 5th & 6th October and this focuses our minds on all things wedding. It's great to work in an industry surrounded by such beautiful things – this goes for where we are located geographically in North Ayrshire too, not only a location with sea views to die for but lots of great wedding businesses too. In our wee town we have top of the range designer wedding dresses at
Opus Couture
(they have a sale coming up – definitely worth a
look
), popular hotel and wedding venue the
Seamill Hydro
, flowers at
The Flower Room
, whose branches now spread to Largs and Glasgow and one-off handmade gifts at
The Barony
, flagship for the Craft Town of Scotland to name a few – other first class jewellers and photographers also work out of West Kilbride, and alternative venues such as beautiful
Portencross Castle
and
Law Castle
offer something for all tastes. How amazing it would be to have ceremony take place, at home or in an unusal venue - a place to find out what is possible is
Amaranthus
.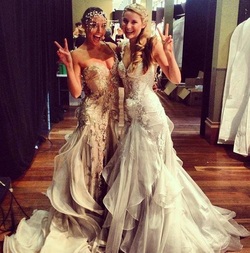 We will look forward to being at the SECC and seeing so many other suppliers and hopefully get a glimpse of beautiful dresses on the catwalk. There are awesome things to see - when else do you get the chance to wear an amazing dress, party in a venue you love and order a cake that is far more over the top than anything you would normally need! The Scottish Wedding Show will be able to show lots of options that are out there and we can't wait to meet brides, grooms and their friends and families. We recently also had an opportunity to go along to look at the
Glasgow Wedding Collective's
hand-picked wedding fair at t
he Lighthouse
in Glasgow city centre. Not only is it an outstanding venue for a city wedding but the suppliers on show there were really fantastic, we were so impressed with the standard of beautiful products and services,
definitely worth a look there too. There are lots of great wedding blogs and pinterest boards out there - one of the ones we love is
Wedloop.
Just a couple of weeks to go before we can really get cracking on some new designs to show in October, we can't wait! #YUMMY!