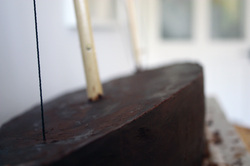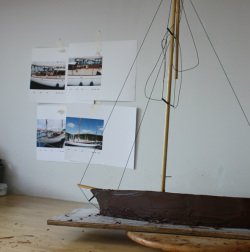 We really love making sculpted cakes in the cake kitchen. There's always plenty
of research to be done and logistical questions to think about - this week is as
much of a challenge as we've ever had. The beautiful Fife yachts are coming to
our area
http://www.fiferegatta.com/
and we are
making a cake to be auctioned off during the event at the gorgeous Portavadie
Marina
http://portavadiemarina.com/
. It's really
important to us to get the structure as accurate as we can and we make life a
bit more difficult for ourselves by using soft and moist cake - a block of dry
madeira would make things alot easier! But it's so important to have it as yummy
as any other cake so extra time is spent strengthening the structure with
chocolate. We have also enlisted some help with the inedible section of the cake
- in this case the masts and rigging have been made out of wood and cloth for
the sails.
We also have a few other occasions going on this week, including a beautiful and classy wedding cake for a couple coming from Germany for their wedding at the Seamill Hydro
http://www.seamillhydro.co.uk/
. Hopefully some fab weather for their wedding by the sea and views that are hard to beat.
This is our first stab at a blog - any suggestions at what folks would like to hear about, please get in touch. And in the meantime we will continue to bring some news from the kitchen!