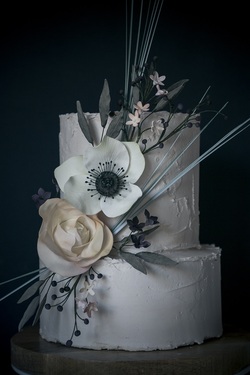 It's been so lovely to get to know the wedding market over the past couple of years – while it is a huge market, it has been a privilege to find about and get to know other like minded businesses, small and independent and working really hard at keeping Scottish weddings as creative and stylish as possible. I love being a part of
The Wedding Collective
(formerly the Glasgow Wedding Collective), it feels like a great fit for the cakes and I have so much respect and admiration for the other suppliers listed on the directory – check it out! They are fab!
It was so much fun taking part on a super stylish collaboration with some fellow Wedding Collectives, put together by Rosie from
Brolly Bucket
– more to come on that and some really gorgeous photos!
The best part of the job is getting to know brides and grooms, hearing their stories and style and seeing it through til after the big day. There have been so many interesting couples over the past couple of years, and I'm looking forward to meeting many more this year. I really hope that my wee business is starting to attract couples who are looking for something a little less conventional – nothing makes me happier than knowing people have a cake design at their wedding that is truly just for them J
There is some availability left on some dates in 2016, and many dates in 2017 are also full – please get in touch as soon as you can as I don't take on more than 2 weddings per week to make sure that customers get my unadultered working hours! It's always worth making a wee enquiry.
Here's to more fab Scottish weddings in 2016!