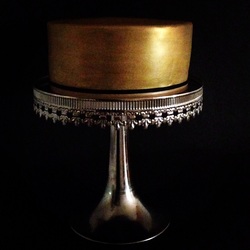 We have lots of tastings coming up with brides and grooms to be to coming to meet us, try some different flavours and talk design for their big day. We love that a cake can be surprisingly delicious when it seems like all the effort has gone into it's looks, the inside is at least as important!

We often make gluten free cakes, dairy free and sometimes egg free too, and at the moment we are putting a lot of effort into getting our vegan recipes up to scratch so that these can be another strand to our wedding cake offerings. Vegan and dairy free cakes throw up the issue of not being able to use our usual ganache to build the smooth and strong structure underneath the final layer of icing, and without the option of marzipan too, temperature becomes a little more pressing than usual, not getting too warm will be important (not usually a problem in Scotland!). We are keen that the vegan cakes don't look any different on the outside as any other wedding cake and are really delicious inside too.

We'll get some pics in progress of some vegan cake building! And above is a dairy free sophistication in gold :D

We can't wait to meet up with brides and grooms to hear about their plans for their weddings, January is a busy month for planning! Many many congratulations to couples who have started off 2014 with a new engagement, much excitement ahead!